The safety and well-being of our guests and team members has always been our top priority. We remain committed to upholding the highest standard of cleanliness and sanitation to ensure our guests feel at ease when visiting the Tivoli Lodge. Our team continues its stringent cleaning efforts to give our guests peace of mind in the guest rooms and all public areas.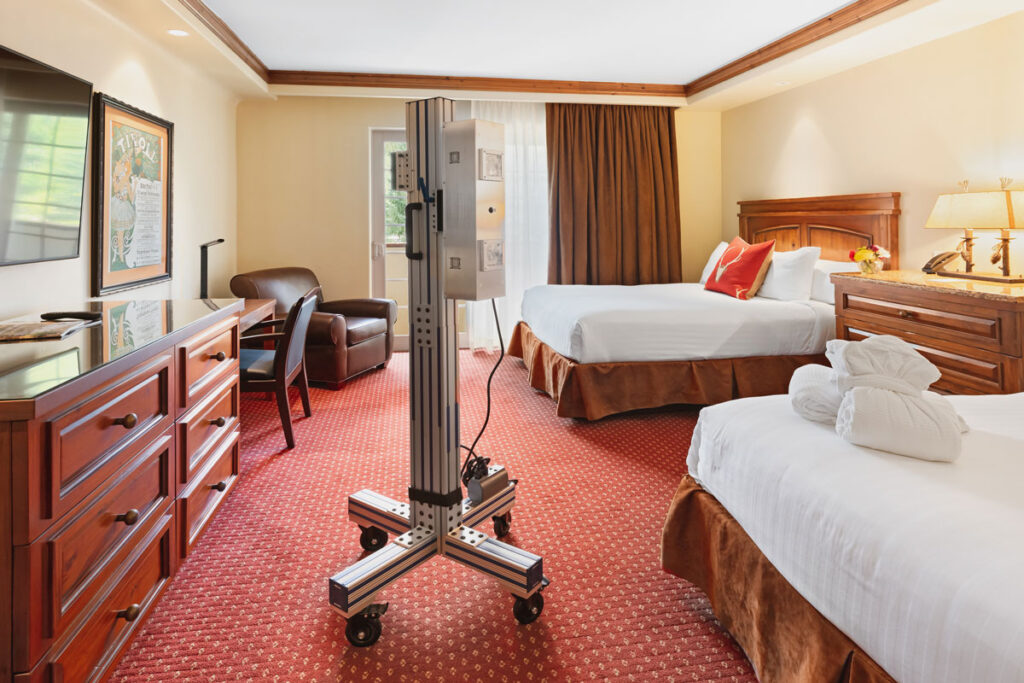 ULTRAVIOLET DISINFECTING TECHNOLOGY
The lodge is industry leading with the use of medical grade ultraviolet disinfection machines in guestrooms and public spaces. PURO Lighting uses a powerful, broad-spectrum light, including germicidal UV-C, UV-B, and anti-bacterial UV-A to optimize their germ-killing efficiency. Our US made mobile disinfecting units have undergone independent clinical testing confirming the significant breakthrough in viral protection.
GUEST ROOM CLEANING
Cleaning and disinfecting protocols require that particular attention is paid to high-touch, hard nonporous items including television remote controls, toilet seats and handles, door and furniture handles, water faucet handles, nightstands, telephones, in-room control panels, light switches, temperature control panels, alarm clocks, luggage racks and flooring. The frequency of room cleaning during a guest's stay may be altered based on guest requirements.
PUBLIC AREA CLEANING
Cleaning and disinfecting shall be frequent (multiple times per day) with an emphasis on frequent contact with hard non-porous surfaces including, but not limited to, front desk check-in counters, bell desks, elevators and elevator buttons, door handles, public bathrooms, vending machines, ice machines, room keys and locks, stair handrails, gym equipment, hot tub seating and surrounding areas, dining surfaces and all seating areas.
LAUNDRY CLEANING
Linens, towels and laundry shall be washed in accordance with CDC guidelines, including washing items as appropriate in accordance with the manufacturer's instructions. Where possible, launder items using the warmest permissible water setting for the items and dry items completely. Dirty linen shall be bagged in the guest room to eliminate excess contact while being transported to the laundry facility.
HAND WASHING AND HAND SANITIZER
CDC guidelines shall govern the duty of all hotel employees to engage in frequent hand washing and use of hand sanitizer. Washing hands with soap and water is the preferable method. In situations where soap/water is not available, alcohol-based sanitizer is recommended. As available, dispensers shall be placed at key guest and employee entrances and contact areas. At a minimum, this will include lobby reception areas and employee entrances, but could also include any other reception areas, entire hotel lobby areas, restaurant entrances, meeting spaces, elevator landings, exercise areas and other public areas on property.
ROOM RECOVERY
In the event of a presumptive case of COVID-19 the affected guest room shall be removed from service and quarantined. The guest room shall not be returned to service until undergoing an enhanced cleaning and disinfecting utilizing EPA approved products within CDC guidelines.