Top Ranked Hotel on Trip Advisor
Welcome to Tivoli Lodge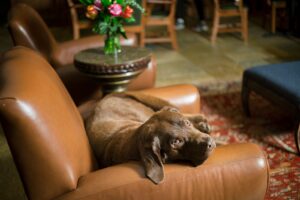 Tivoli Lodge in Vail Village is conveniently located in the middle of all things Vail. Situated within a block of the new "One" 10 passenger Gondola, which boasts WiFi and heated seats, and a 5-minute walk from Vail Village, you can be sure to experience everything on your next Vail visit. It's easy to think of Vail as a place to just ski, ski, and ski some more!
---
Amenities & More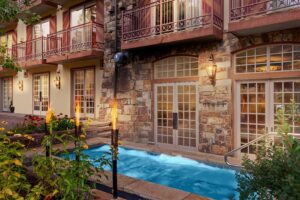 Our entire luxury Vail hotel has wireless internet. Other amenities include meeting rooms, a fully-equipped fitness room, with mountain views, underground parking, and ski storage. Within a short walk, guests can take advantage of Vail Village with its many shops, restaurants, and galleries.
---
 Our Rooms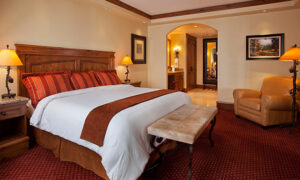 There are 66 spacious new Vail hotel rooms offering a choice of mountain or village views, many with fireplaces. The Peter Seibert Suite serves up stunning 180-degree views of the surrounding mountains. All are impeccably appointed with the finest linens, mini-refrigerators, and large soaking tubs. And, they all deliver luxury Vail hotel amenities for a boutique hotel value.
ADA Guest Rooms are located outside of main elevator for guest convenience
All ADA Guests receive complimentary valet parking while staying at the Tivoli Lodge
ADA guest bathrooms come with ADA compliant counters, toilets and showers.
Front Desk is accessible to wheelchair guests and features a lowered shelf convenient for guests with disabilities.
A ramp, located at the front entrance leading to Main Lobby, Front Desk, and Elevator
An access lift located in main lobby can take guests to the upper level of the first floor, which has the conference room, fitness center, and business center
ADA Shower Chairs are available upon request
Wheelchair and Crutches are available up on request
Complimentary Town Bus have ADA access at all pickup locations.
ADA Village View Double Bed
The ADA Village View Double Bed Guest Room overlooks Vail Village. Rooms feature the finest linens and terry, plush bathrobes, mini-refrigerators, coffee/tea service, and microwaves. The wet bar area provides a granite countertop with two stools. Rooms feature a 32" flat panel television and DVD player.
The entire luxury Vail hotel is wireless and other amenities include a fully-equipped fitness room, outdoor hot tub with mountain views, and complimentary ski valet service/storage. Our ADA rooms beet all requirements – Guestroom is equipped with easy shower access, lever door handles, lowered counters and lowered bed mattresses.
---
Groups & Events

The fabulously redone Tivoli Lodge at Vail, Colorado offers an intimate, comfortable space for small group meetings of up to 40 in its new conference space. Views of Vail Mountain will speed the agenda along as participants eagerly anticipate hitting the slopes for skiing in the winter or mountain biking in the summer. Our fully Internet-connected, totally wireless Vail Hotel also features a business center and can provide audio-visual equipment for any type of presentation.